In Phuket, Thailand
Platinum Bay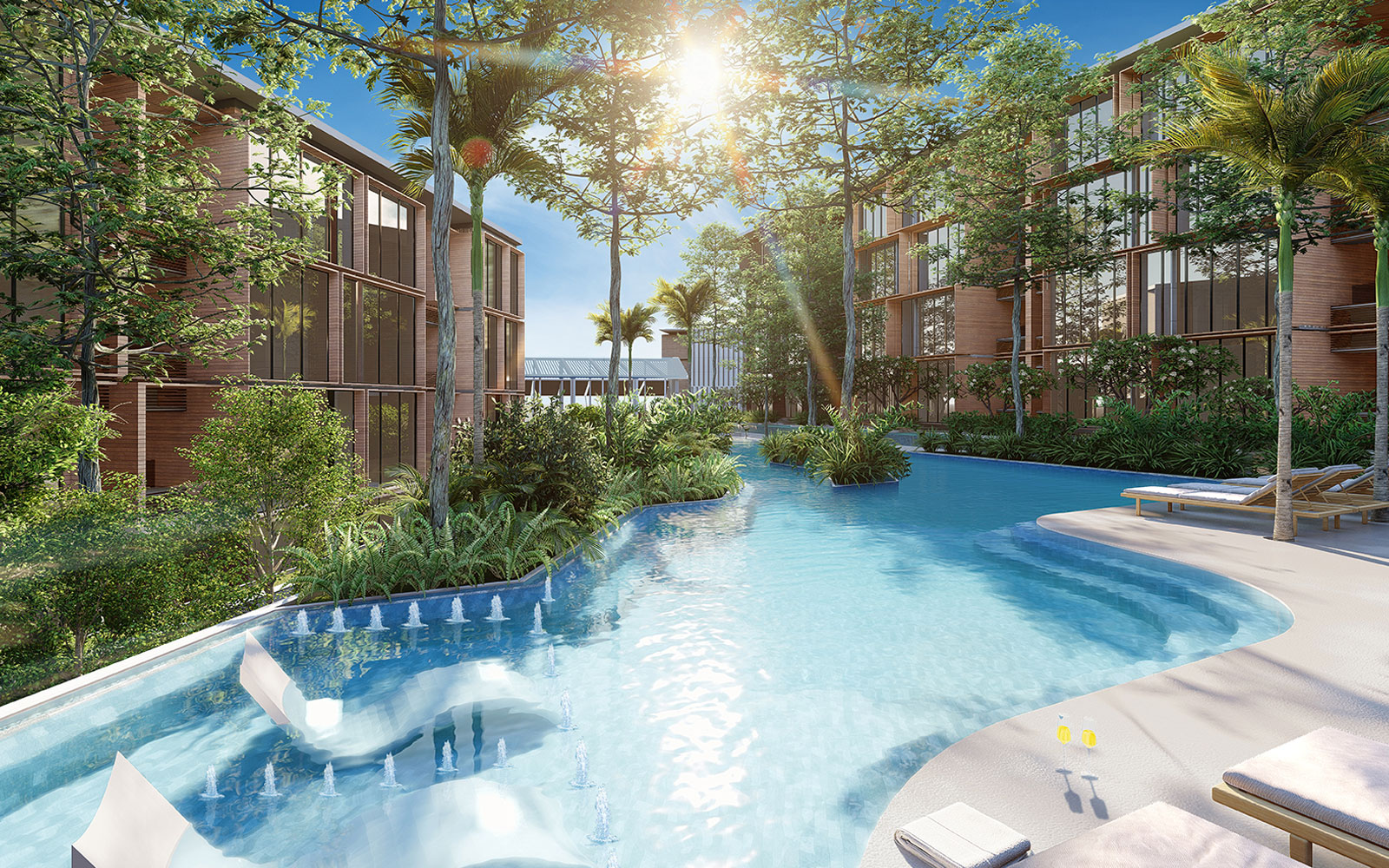 Luxury Hotel Condominiums with Freehold Investment
Built around the concept of a beautiful tropical paradise resort, Platinum Bay offers buyers a unique investment opportunity in Phuket's last remaining prime west coast location, just minutes from the pure white sands at Kamala beach. Features of the project include:
Winner of the 2019 Best Landscape Architectural Design Phuket
A Minute walk to Kamala Beach and immersed in tropical forests
Luxury Condominium units designed by Best of Asia interior design award winner and ready with high quality furnishings
Receive returns on your investment, managed by the hotel
The comfort and security in being part of professionally managed resort complex
Opportunity
Invest With Confidence
For the last remaining units at Platinum Bay, we are offering generous incentives for investors:
Rental Pool Investment Option

The rental pool investment option is a divided net profit-sharing plan with full service provided by international hotel group. You can feel confident about your long-term investment profit

Free 30-day stay every year

For qualified customers, you can enjoy the benefit of an annual 30-day free stay at our resort. Due to ongoing hotel operations, you are not guaranteed your own unit during your stay.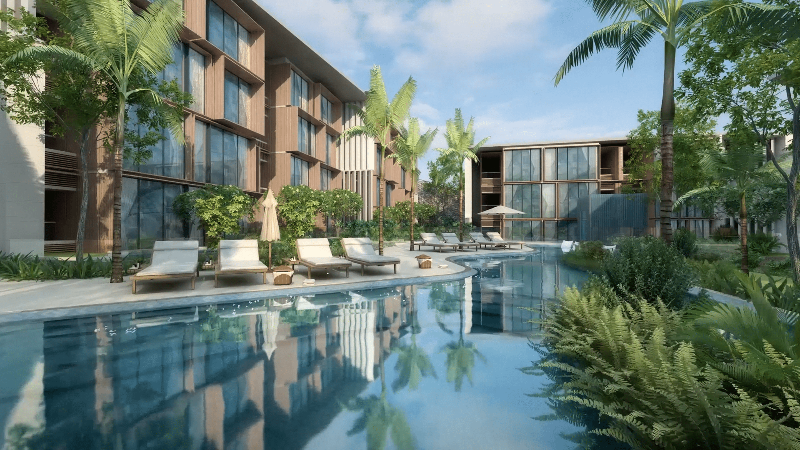 Reserve Your Unit Now For Special Offers
Now is the best time to invest in Phuket, one of the fastest-growing global destinations for travelers. Platinum Bay is a premier choice for your investment.
The Layout
Our Master Plan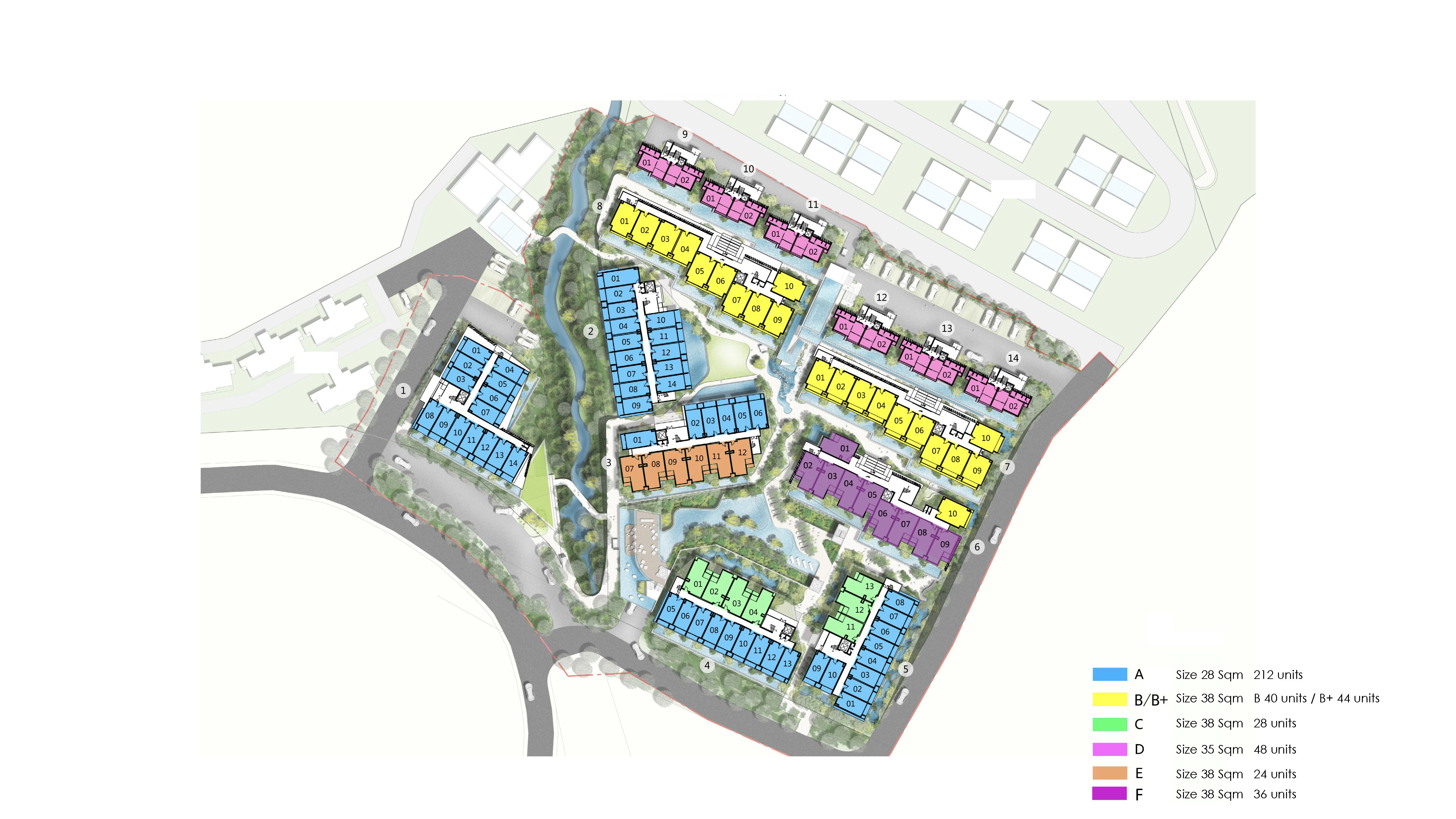 Winner of the 2019 Best Landscape Architectural Design Phuket
Platinum Bay started development in 2019 and is currently under construction. Once complete, it will feature:
15 Buildings
432 Condo Units
Waterfall Garden
Private Club House
Restaurants & Bars
Fitness Facility
24/7 Reception & Service
Sunset Lounge
24 Common Pools
On-Site Security
Private Parking Lot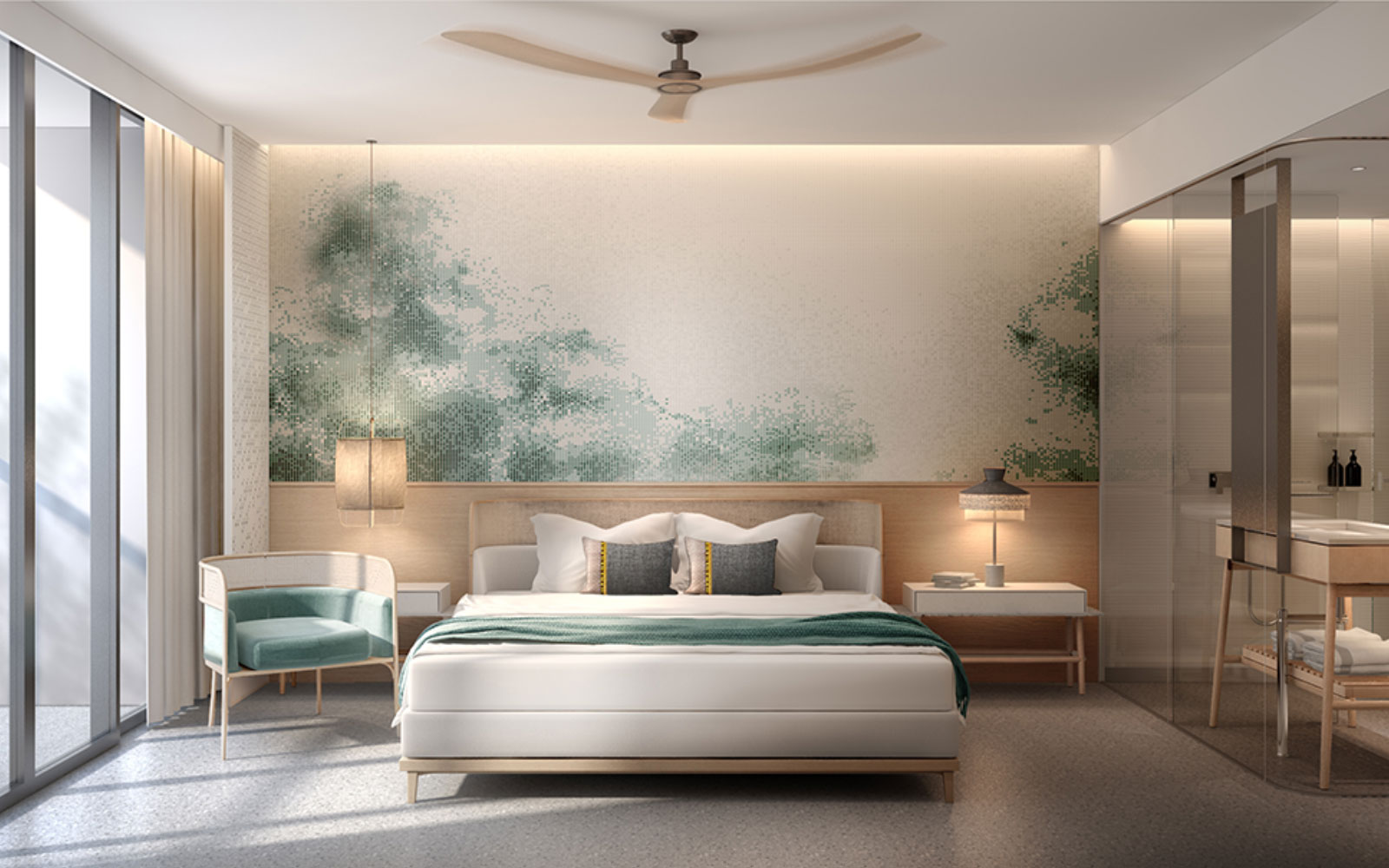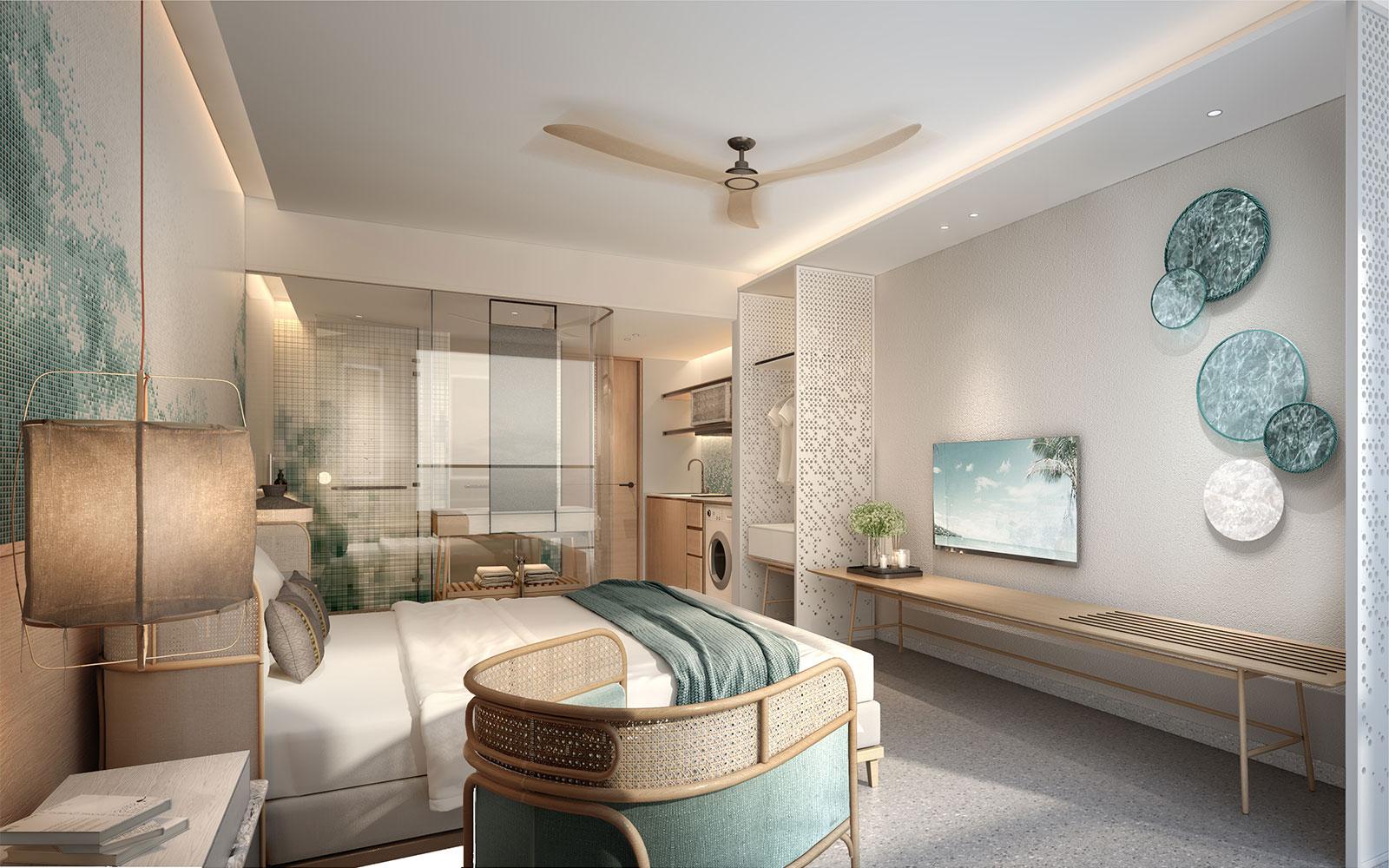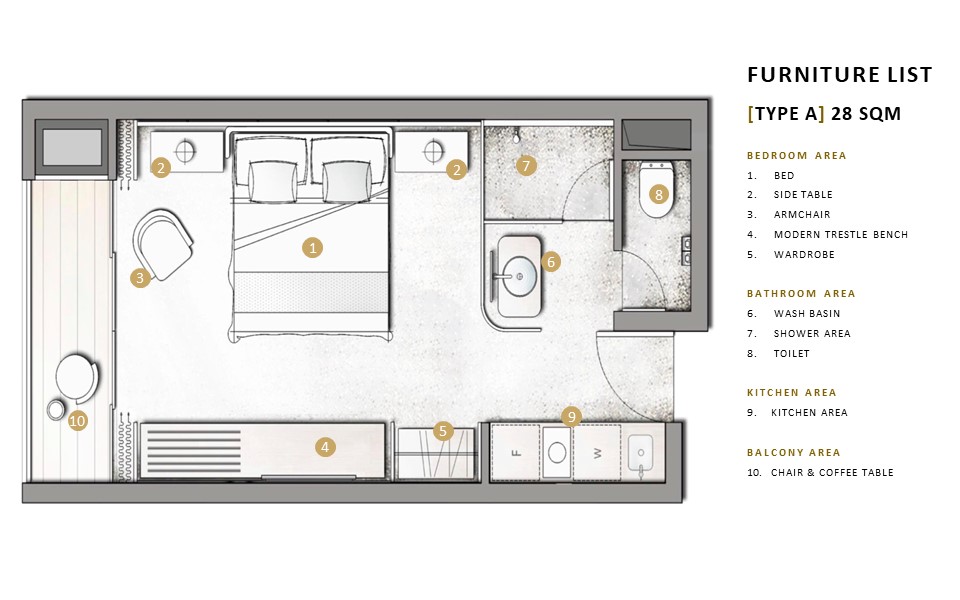 Unit Type A
Area: 28 sq.m / 301 sq.ft
View: Garden View
Features: Private Balcony
The smallest unit has a comforatable space and perfect functions, perfect for investors looking to maximize rental income with low capital investment.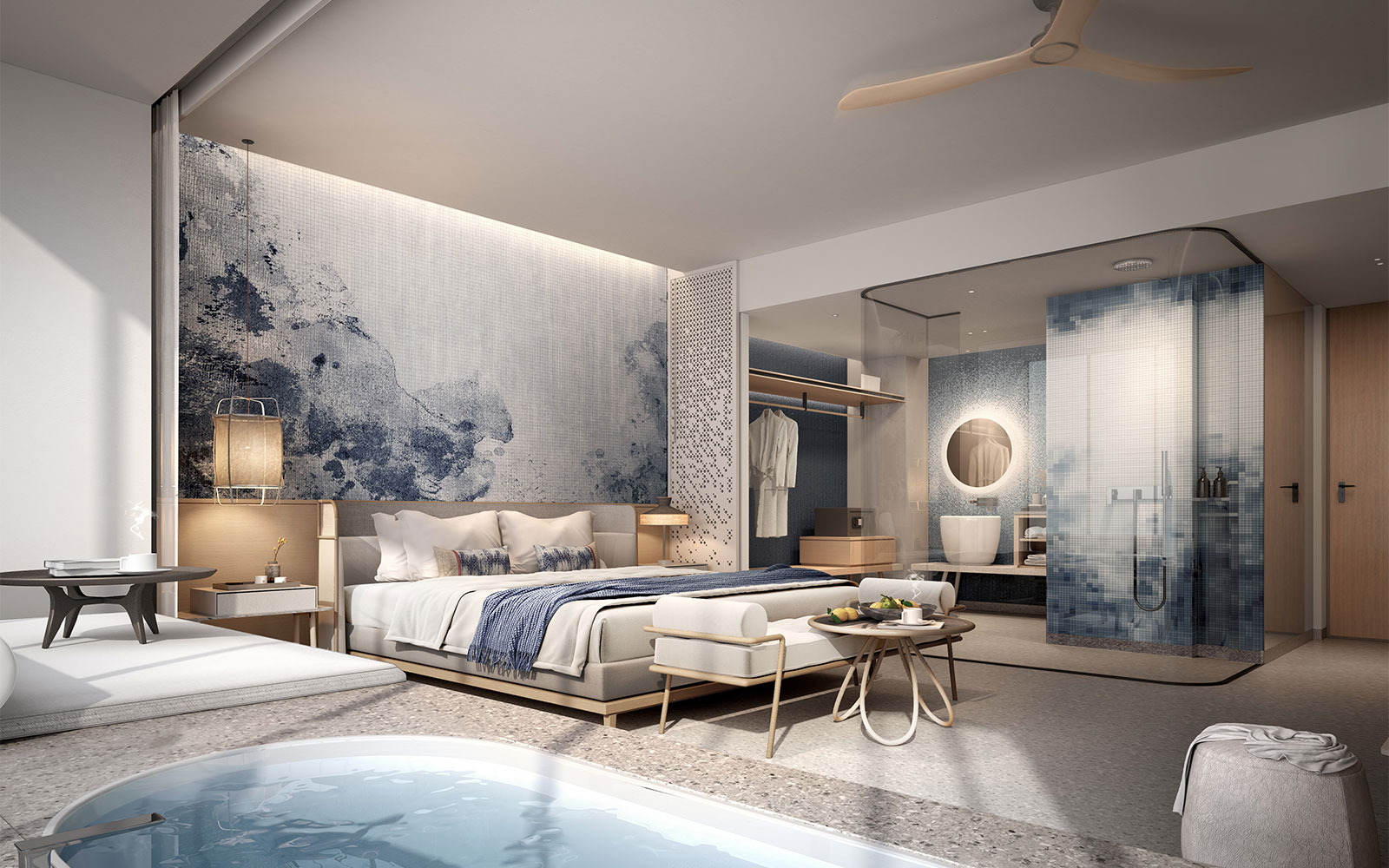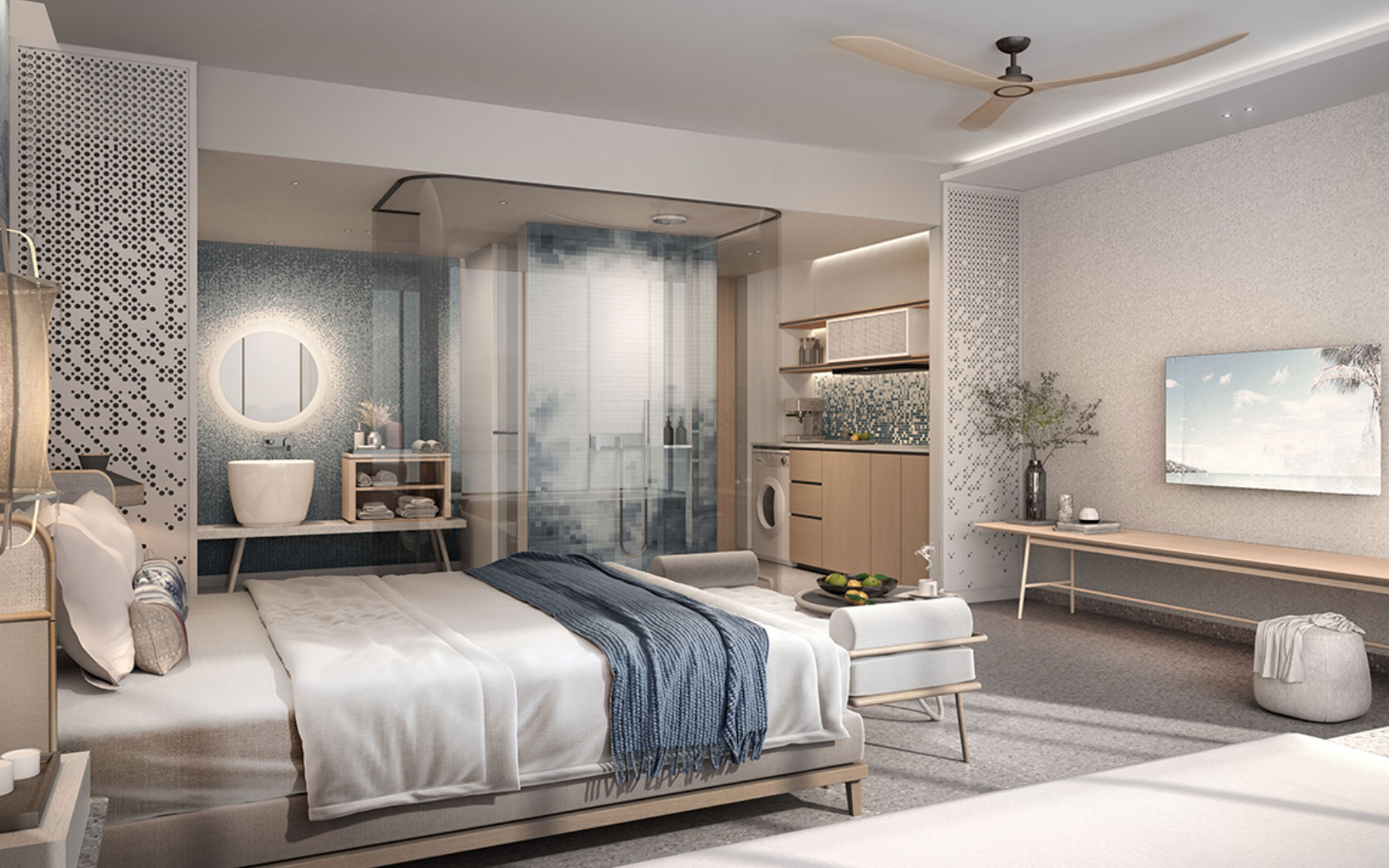 Unit Type B
Area: 38 sq.m / 409 sq.ft
View: Garden / Ocean
Features: Indoor Bathtub
The design of bedroom has widest space and amazing views. Featuring a bathtub in the corner overlooking the Andaman Sea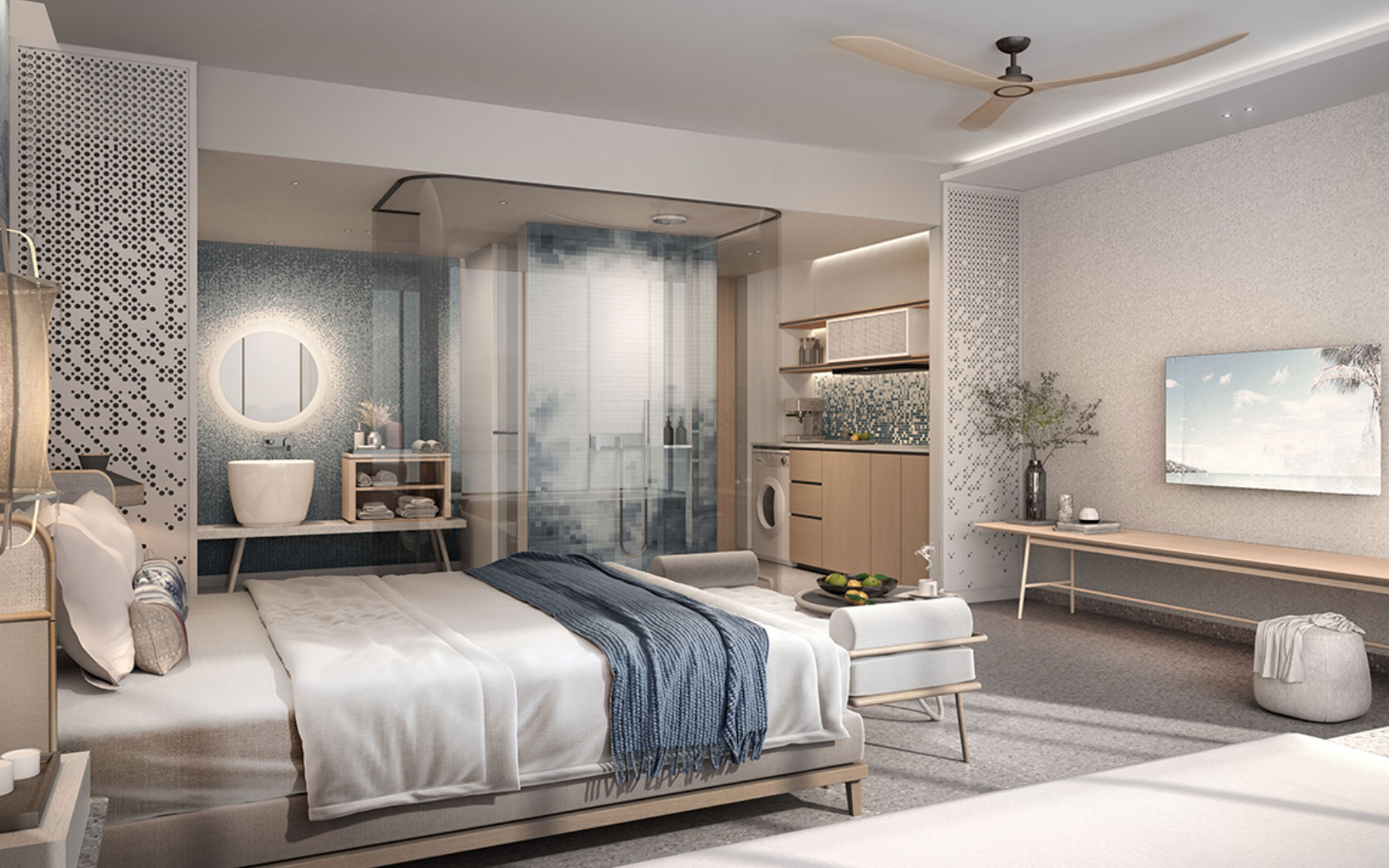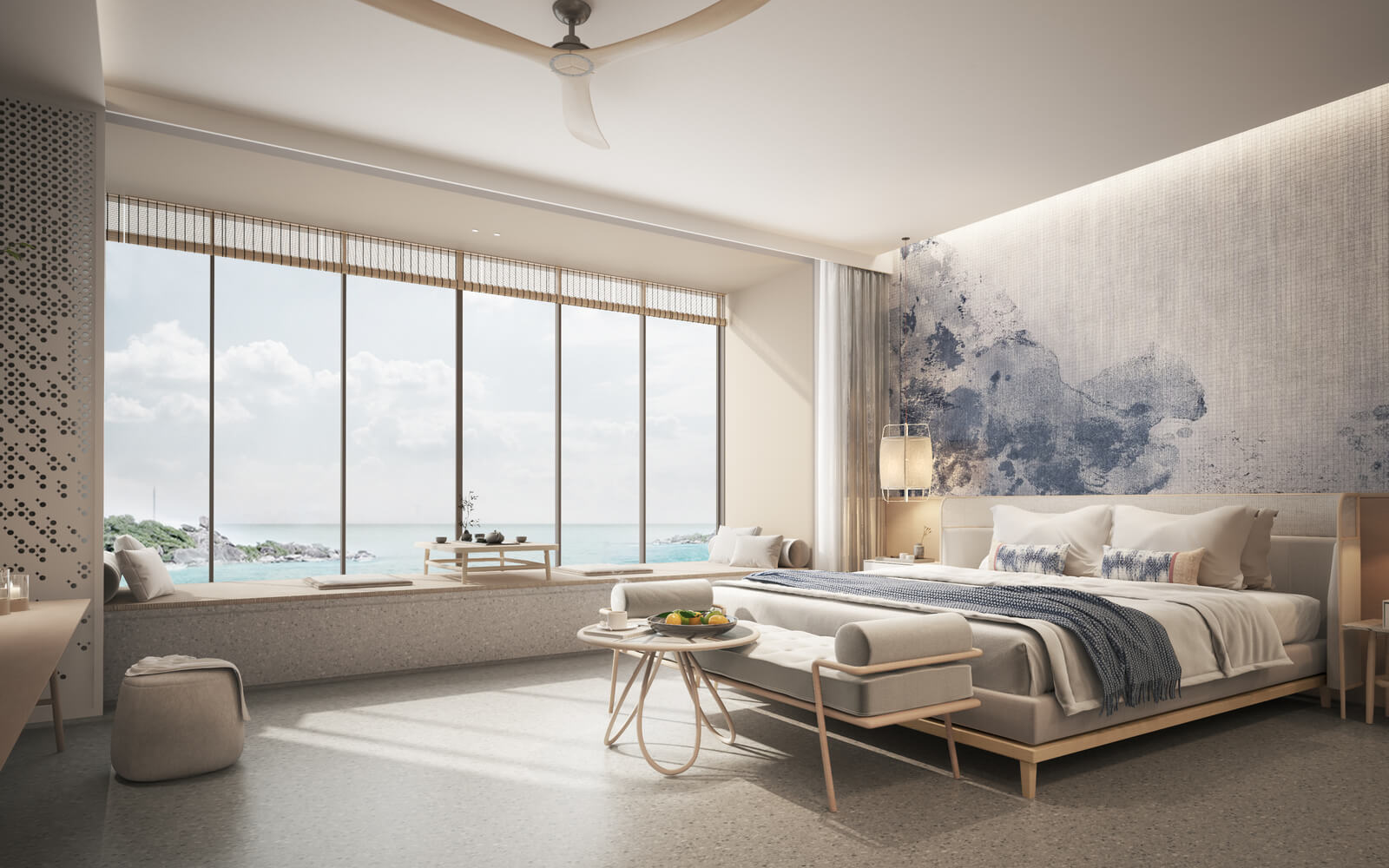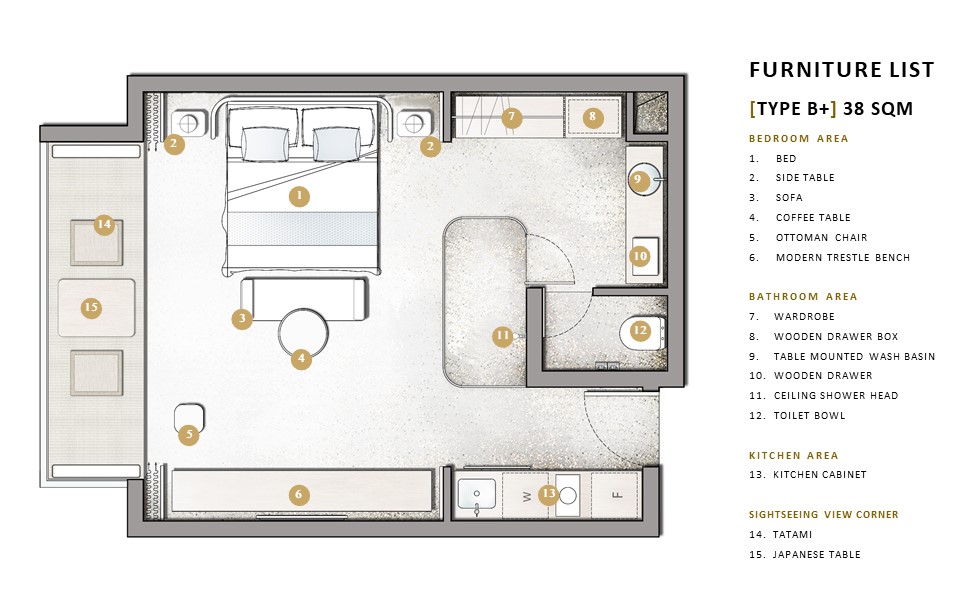 Unit Type B+
Area: 38 sq.m / 409 sq.ft
View: Garden / Ocean
Features: Tatami Area
The design of bedroom has widest space and amazing views. Featuring a tatami area in the corner overlooking the Andaman Sea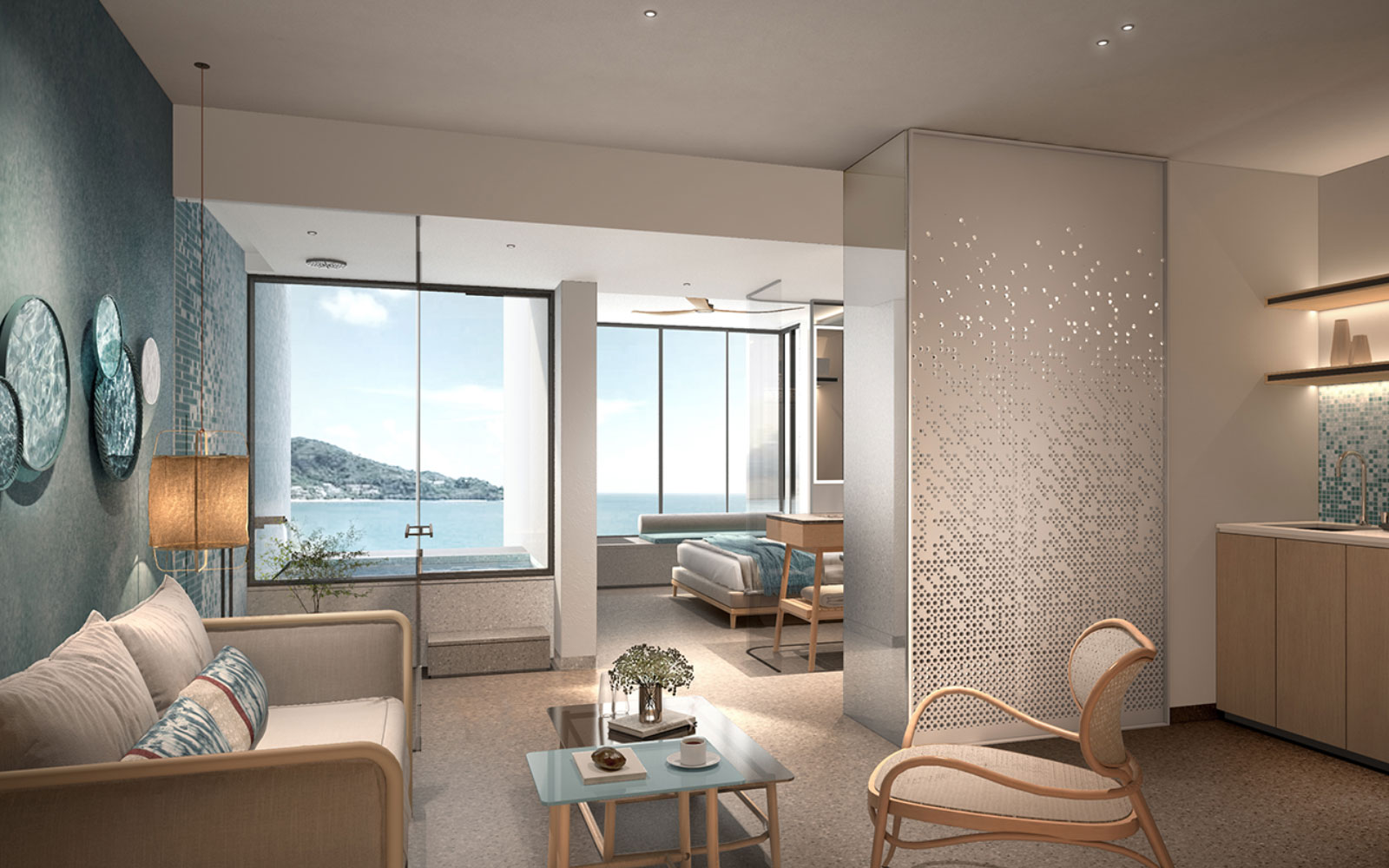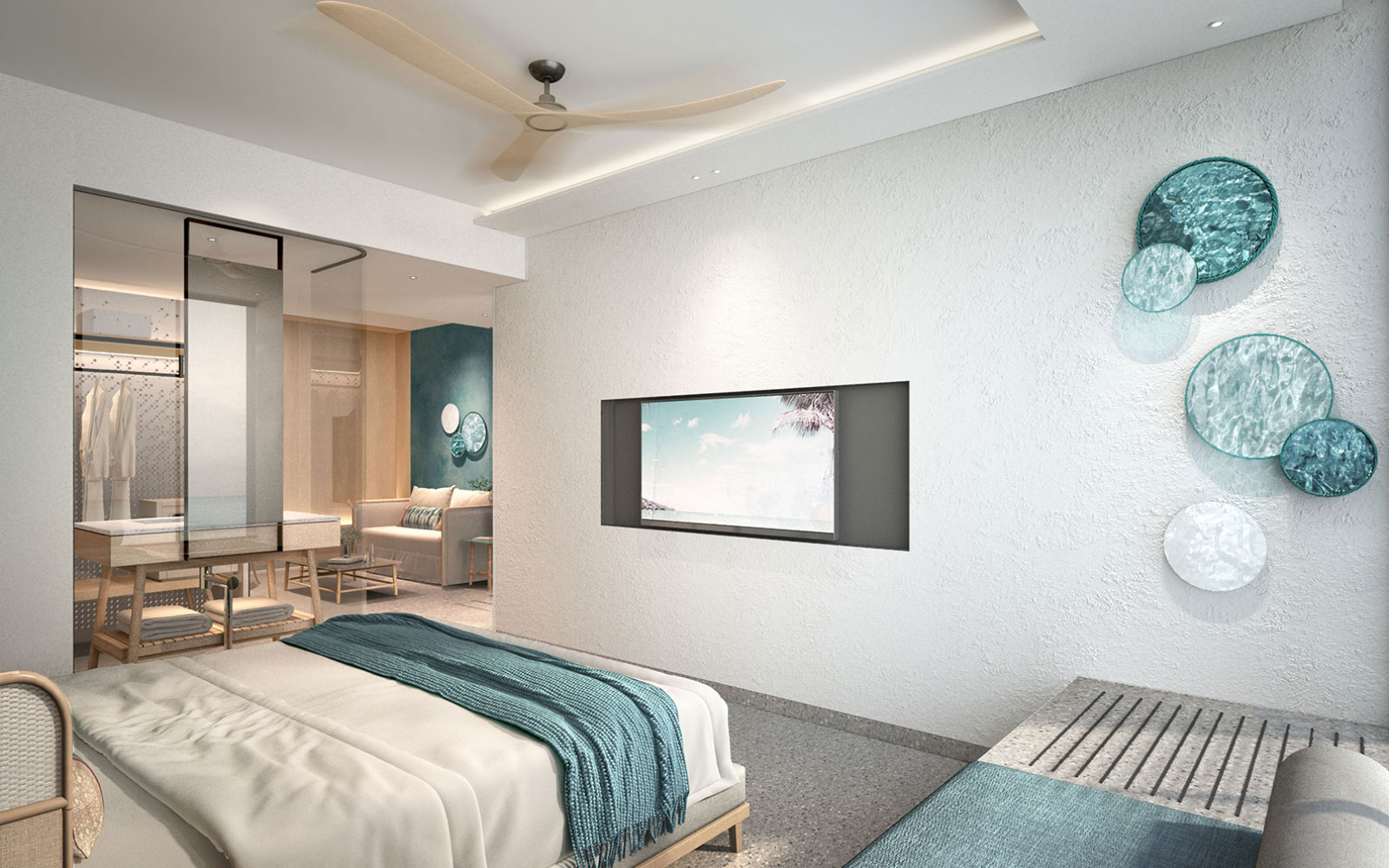 Unit Type C
Area: 38.2 sq.m / 411 sq.ft
View: Garden, Pool, Ocean
Features: Private Outdoor Pool
Enjoy your private living space and private outdoor pool with an ocean view. Room type C is suitable for family vacationers or a group of friends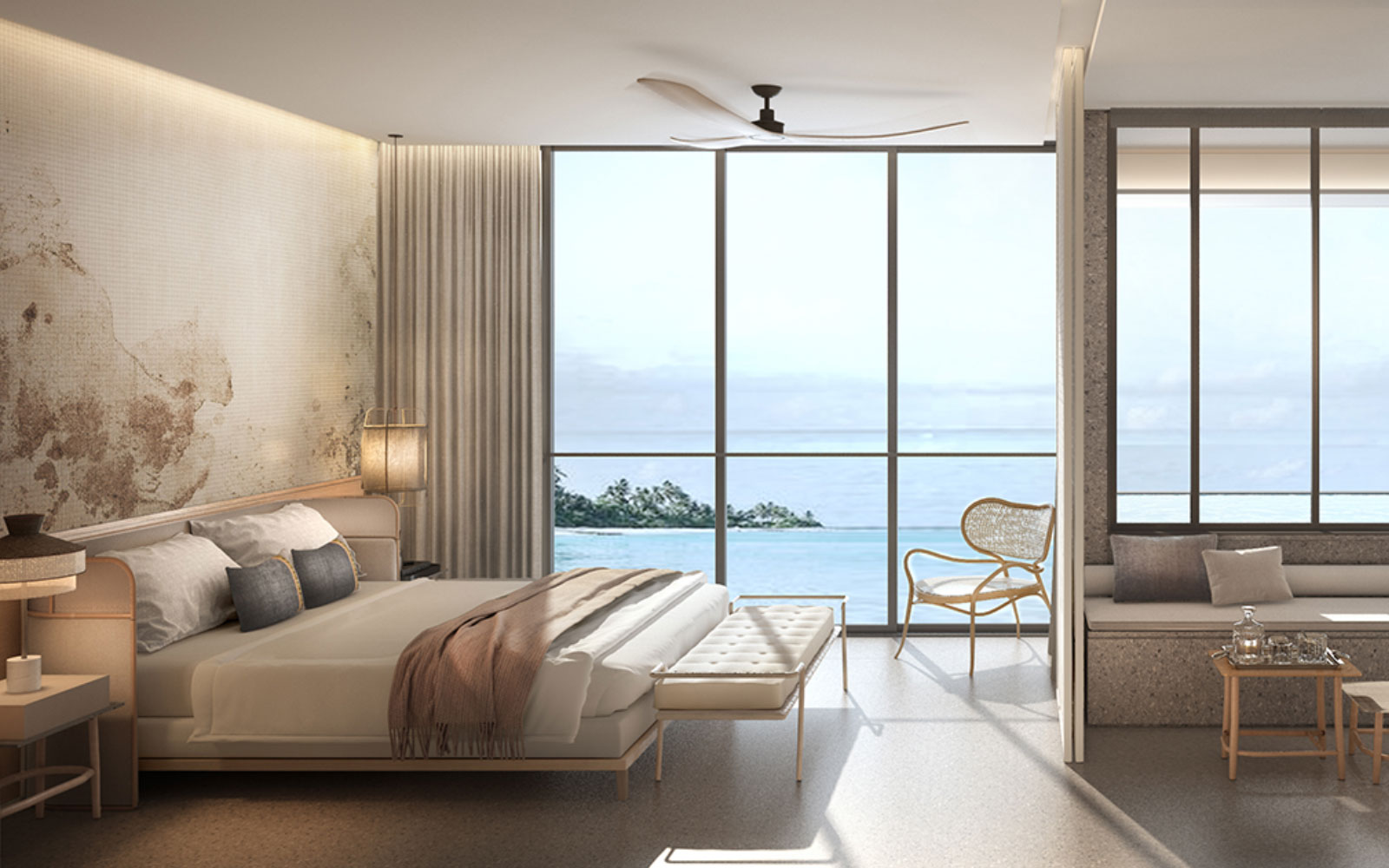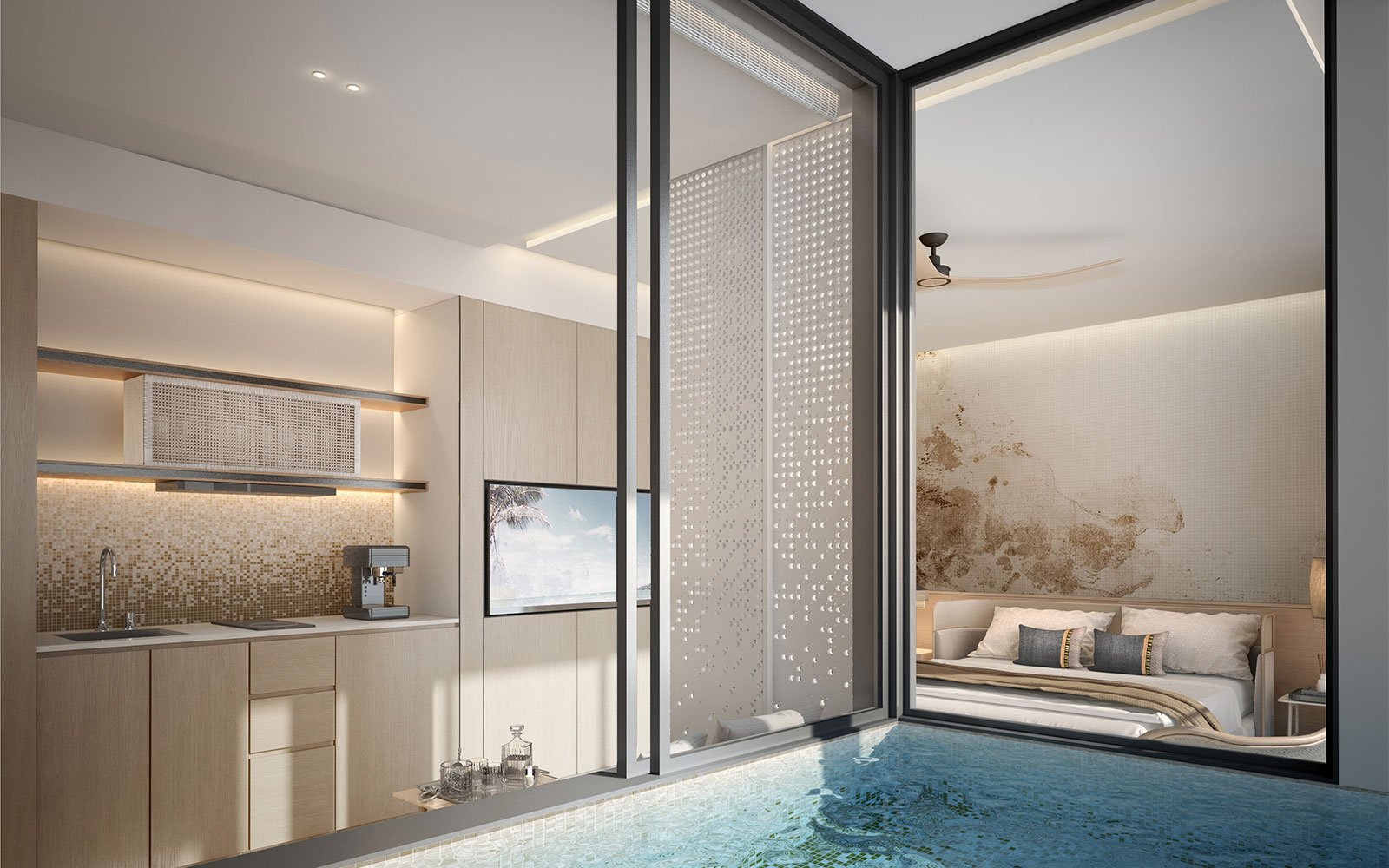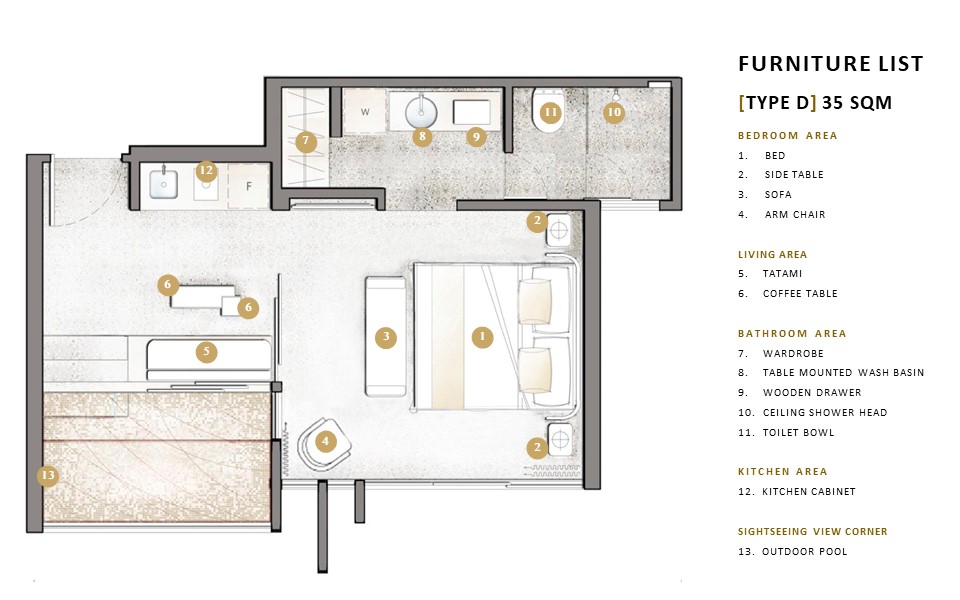 Unit Type D
Area: 35.8 sq.m / 385 sq.ft
View: Sunset Ocean
Features: Private Outdoor Pool
The room designed for realizing your immersed moment with 8 meters width to see the panoramic Andaman Sunset and Ocean view in a private outdoor pool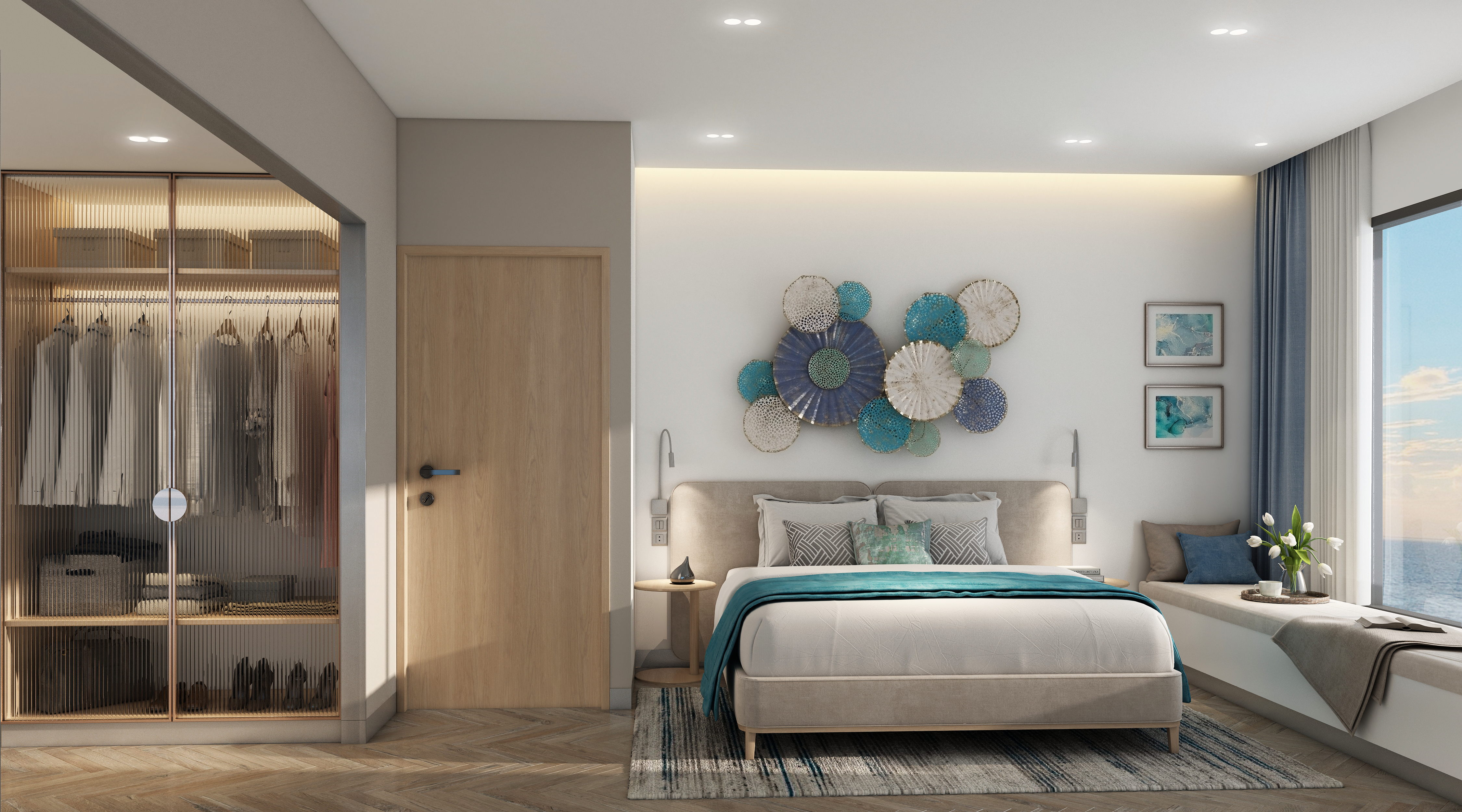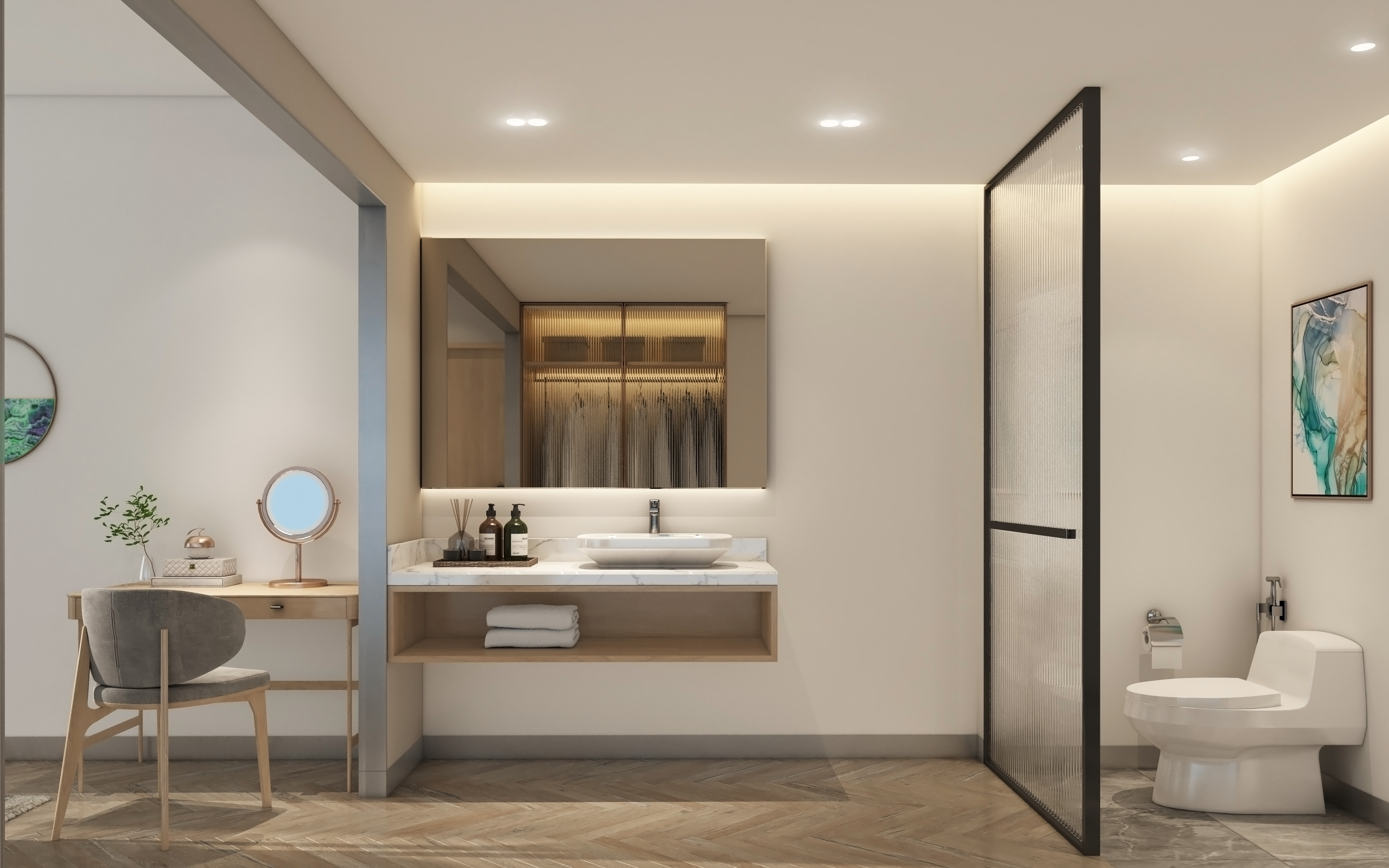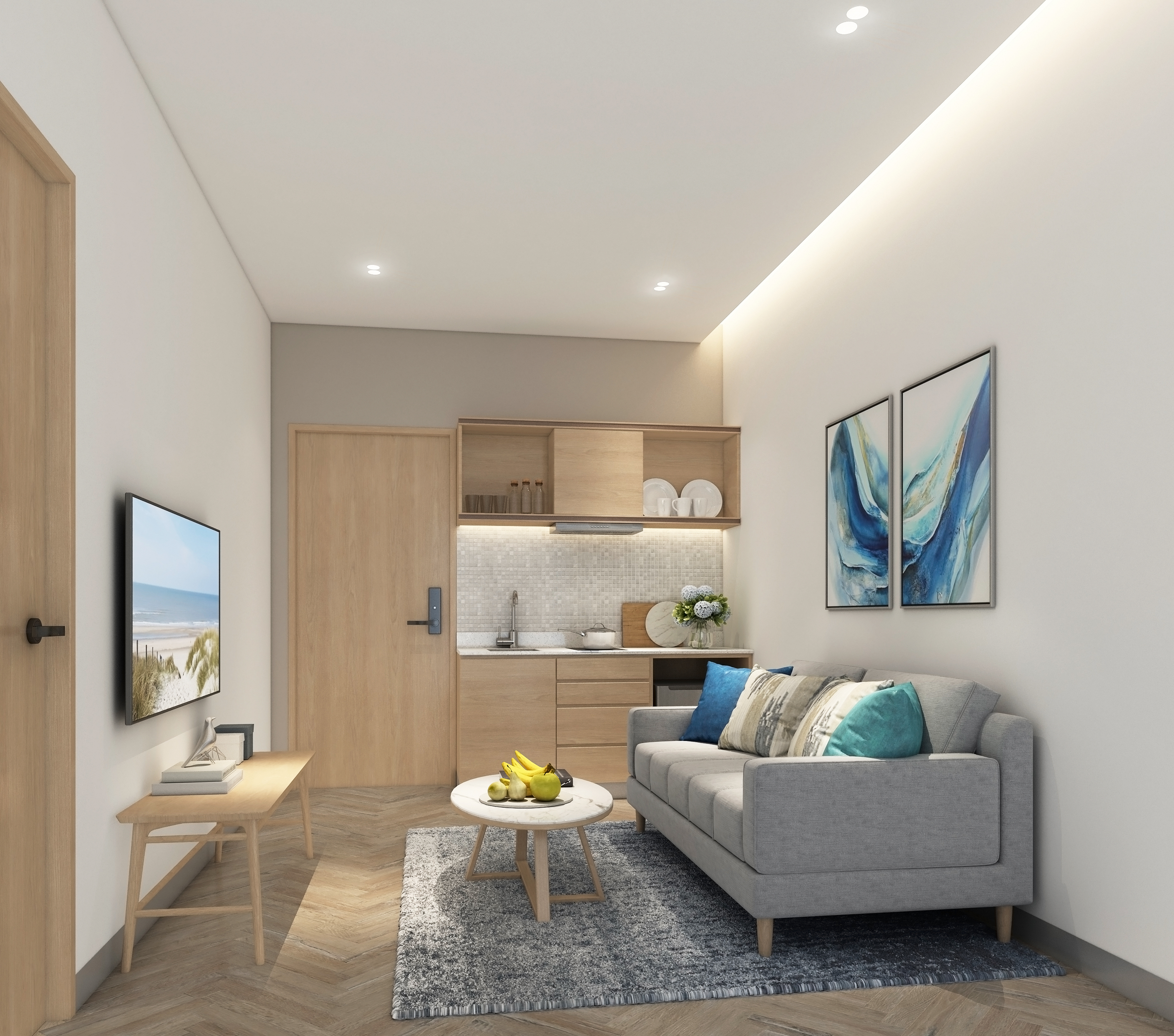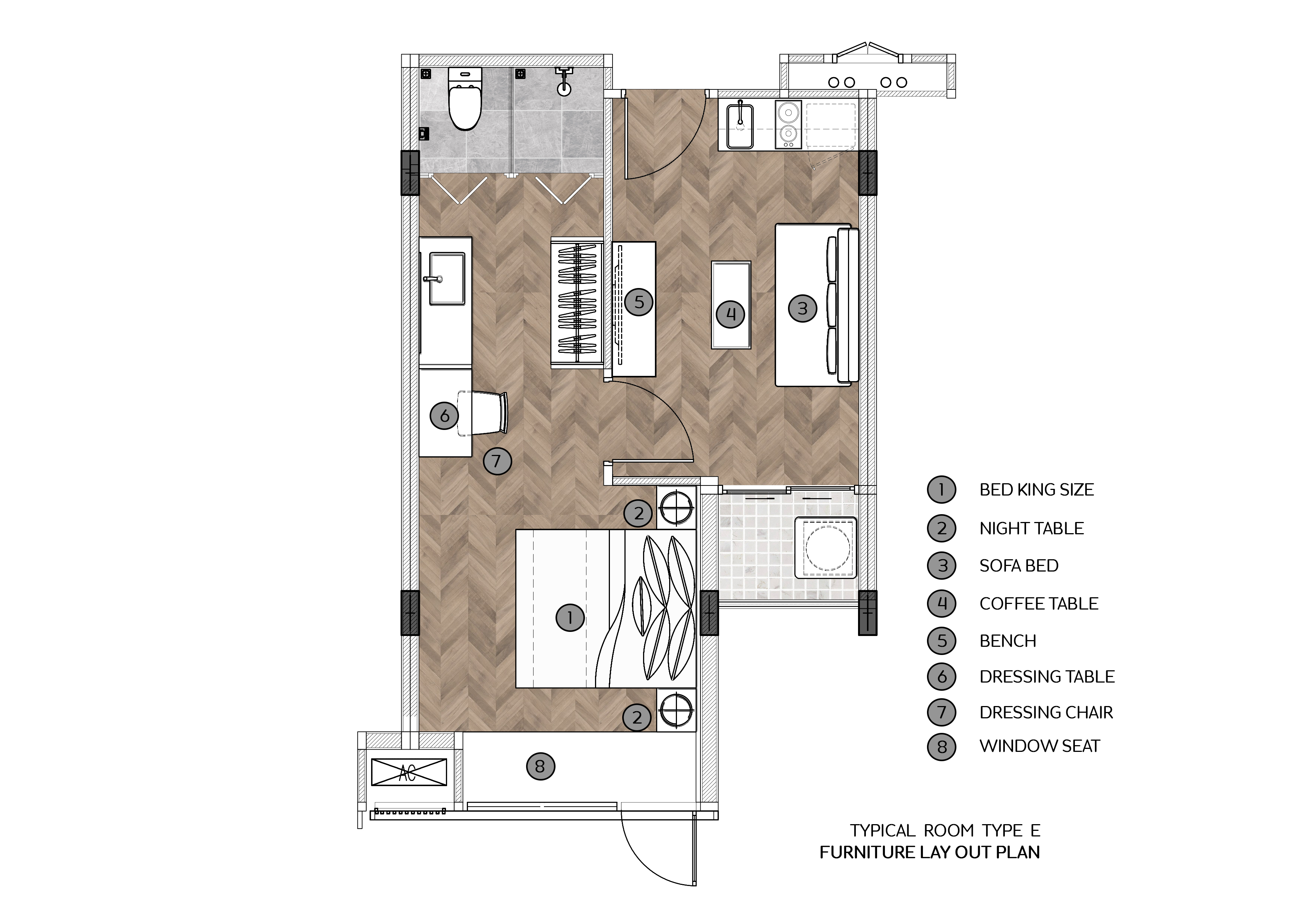 Unit Type E
Area: 38 sq.m / 409 sq.ft
View: Pool
Features: Private Balcony
Relaxing atmosphere from private balcony with pool view. Room type E is one bedroom unit suitable for residence or long-term living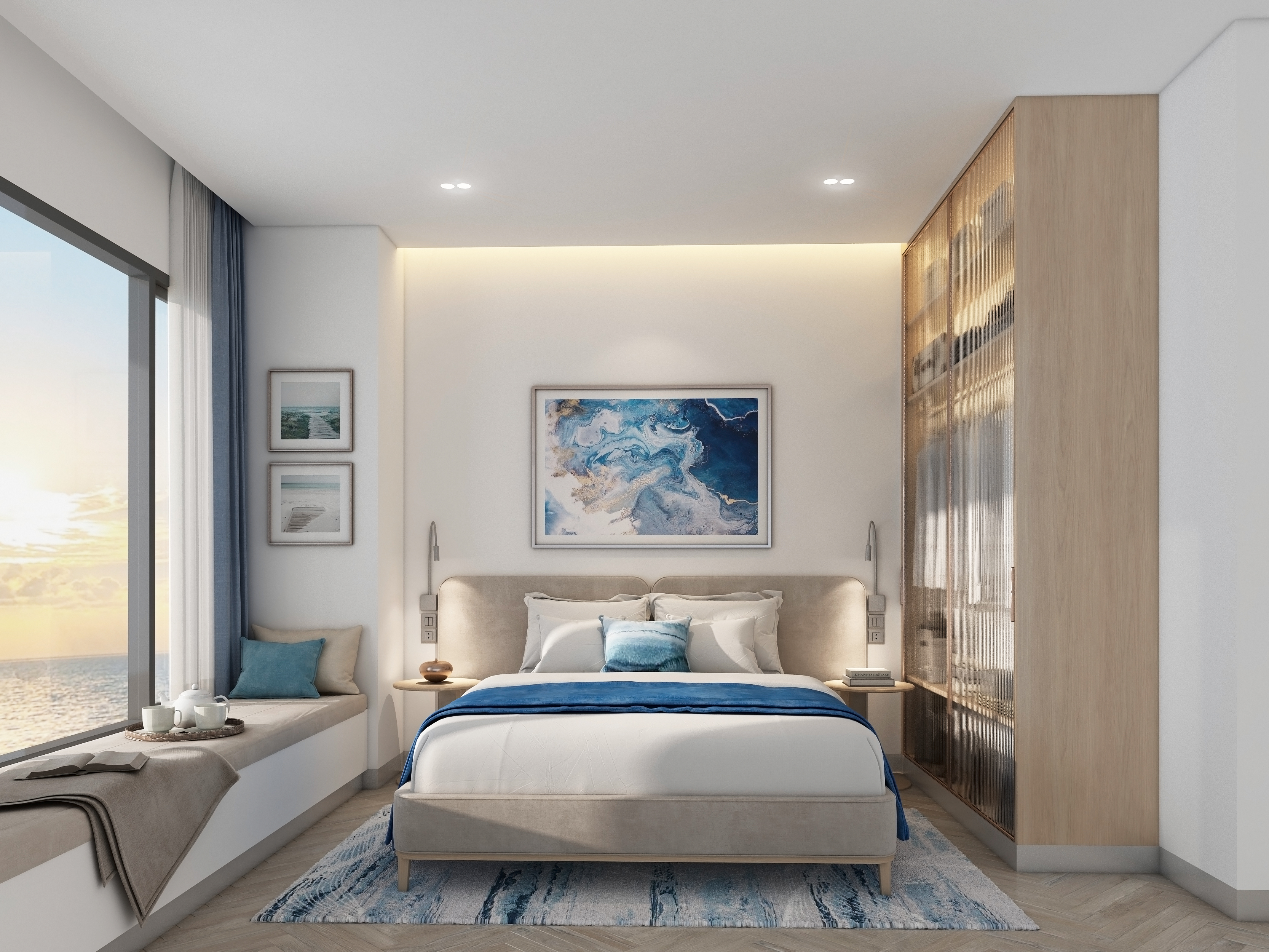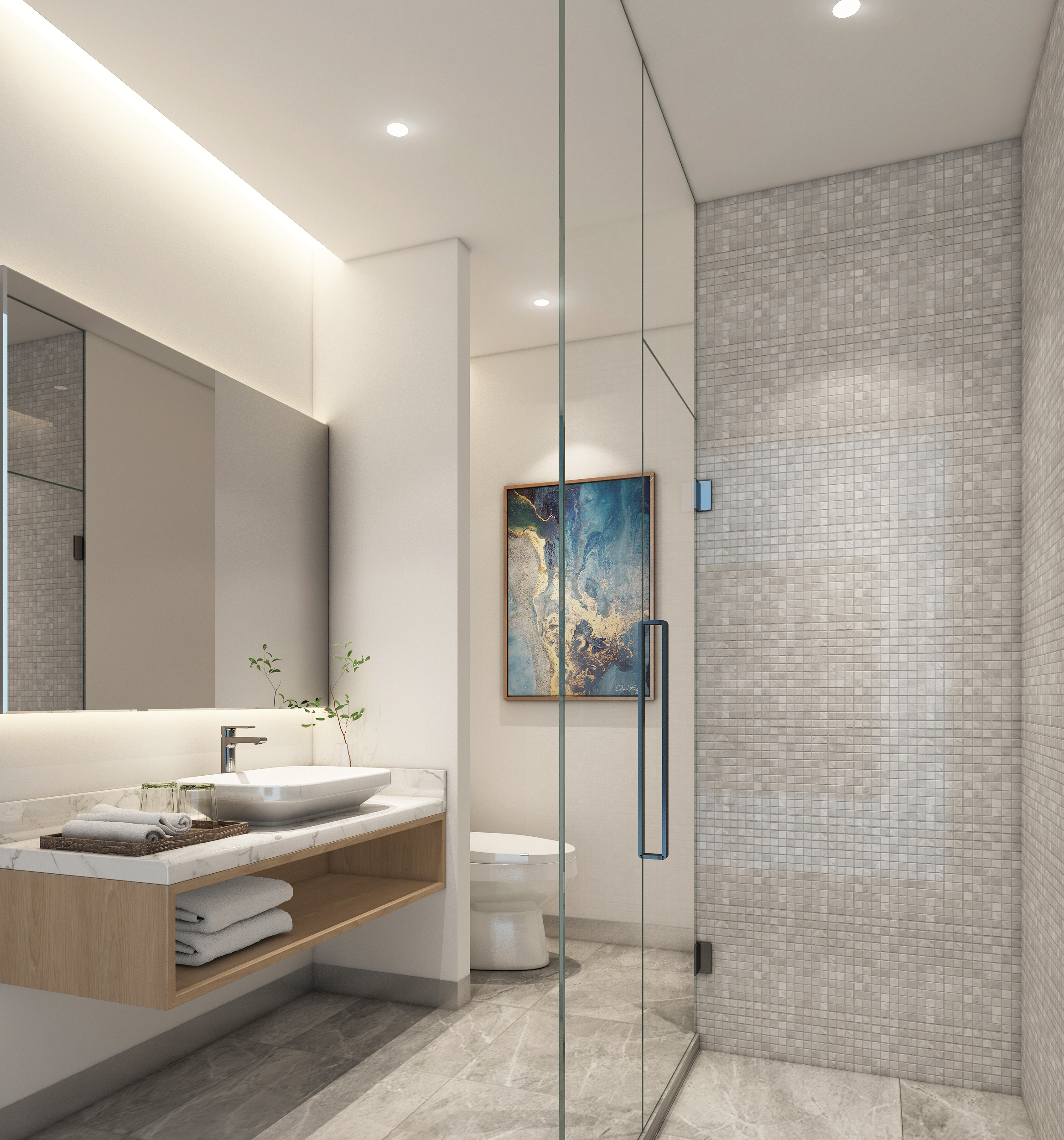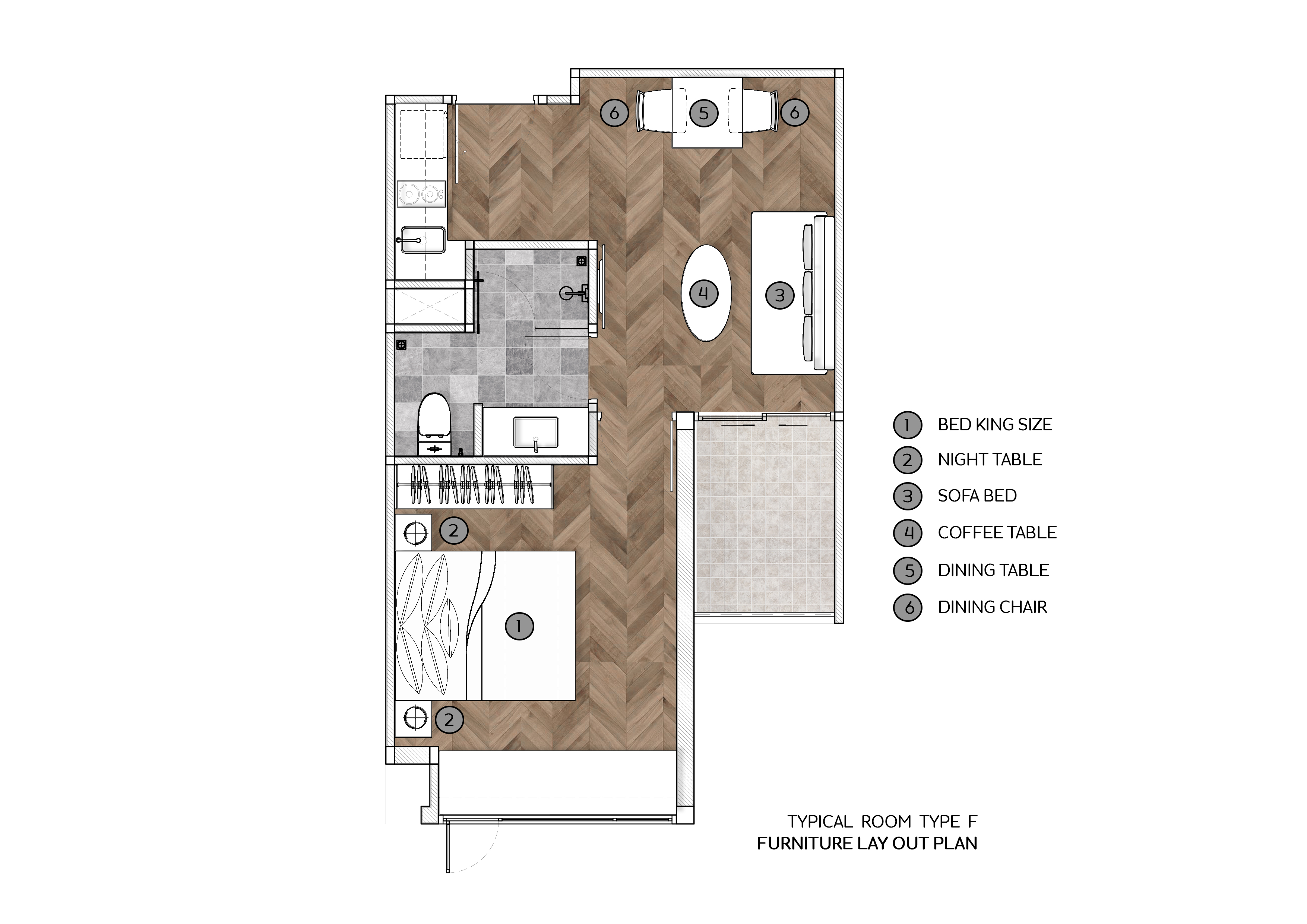 Unit Type F
Area: 38 sq.m / 409 sq.ft
View: Pool
Features: Private Balcony
Relaxing atmosphere from private balcony with pool view. Room type F is one bedroom unit suitable for residence or long-term living
UPDATE CONSTRUCTION
construction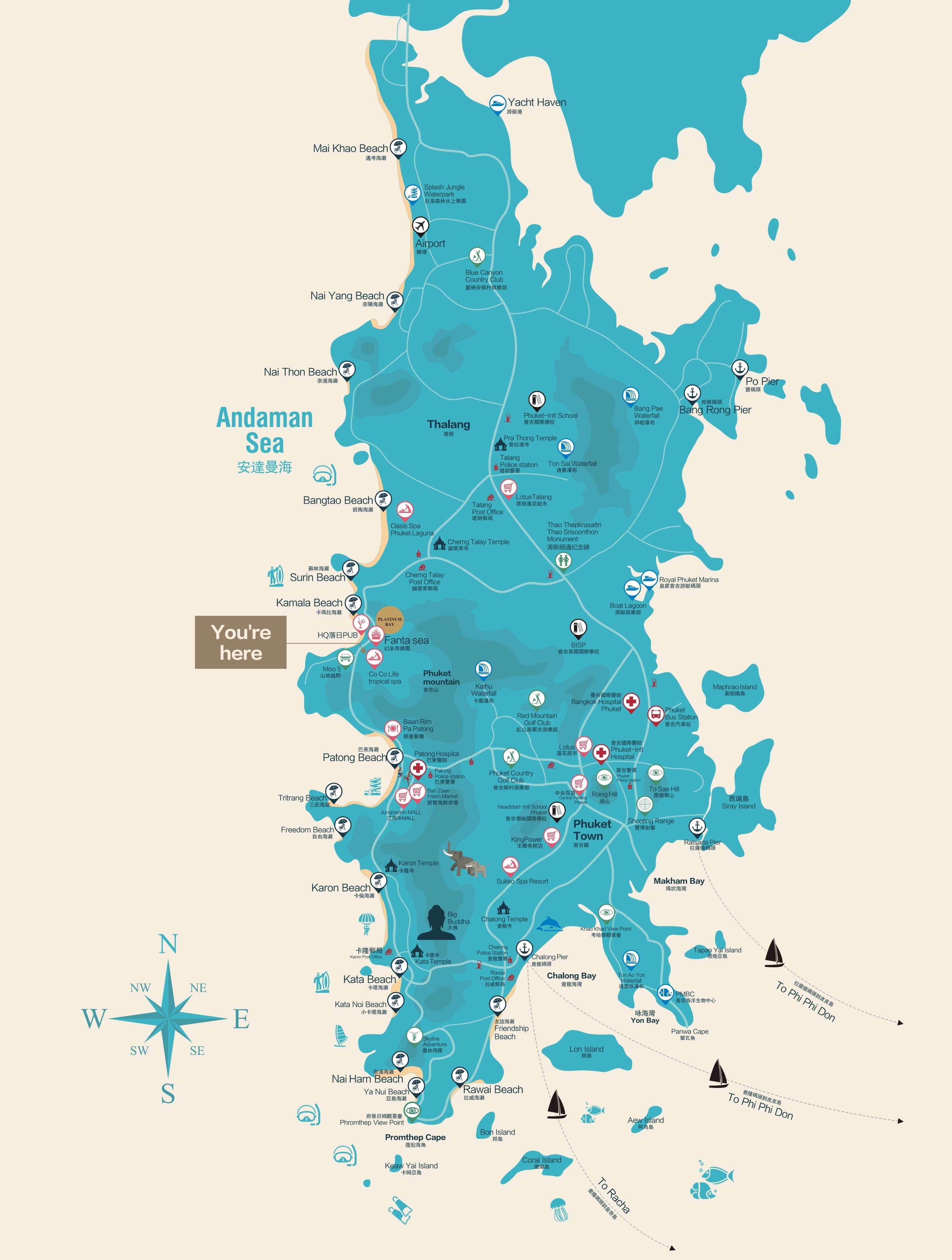 Situated in the heart of the island's sought-after sunset coast on Kamala beach, ADM Platinum Bay is a perfect location for buyers looking to make the most of Phuket's resort lifestyle.
Phuket is the largest island in Thailand. It is located in the Andaman Sea in southern Thailand. The island is mostly mountainous with a mountain range in the west of the island from the north to the south. the west coast is the most interesting and exciting part of the island. There's a lot to see and do in the popular beach resort towns of Patong, Karon, Kata and Kamala. Phuket is an international tourist destination with full service and facilities. There are more than 10 million tourists spend a pleasant holiday here every year.
| | |
| --- | --- |
| Destination | Travel Time |
| Kamala Beach | 0 mins |
| Surin Beach | 5 mins |
| Bangtao Beach | 10 mins |
| Patong Beach | 15 mins |
| Central Patong | 15 mins |
| Jungceylon Shopping Center | 15 mins |
| Porto De Phuket | 15 mins |
| Central Festival & Central Floresta | 35 mins |
| Cafe Del Mar - Beach Club | 2 mins |
| Phuket Fantasea | 2 mins |
| Phuket Old Town | 25 mins |
| Loch Palm Golf Club | 25 mins |
| Phuket Airport | 35 mins |
Overview of Kamala
Kamala is one of the popular destinations for families and longer-term visitors in Phuket, Kamala Beach is an objectively beautiful sandy beach for any tropical experience you desire located in the middle of the west coast of Phuket. a tranquil beach, Calm relaxed atmosphere, perfect sunsets, and It is famous for celebrity vacation homes and is called "Millionaire's Mile". It is also home to the Thai dynasty palace and thus Kamala Bay is also known as "The Royal Bay". Kamala is the place of several of the island's most exclusive resorts, from luxury hotels to family-friendly resorts, fringe the shoreline, as well as plenty of restaurants. The beach is easily accessible from Phuket airport with only a 35-minute drive, and other tourist destinations are nearby.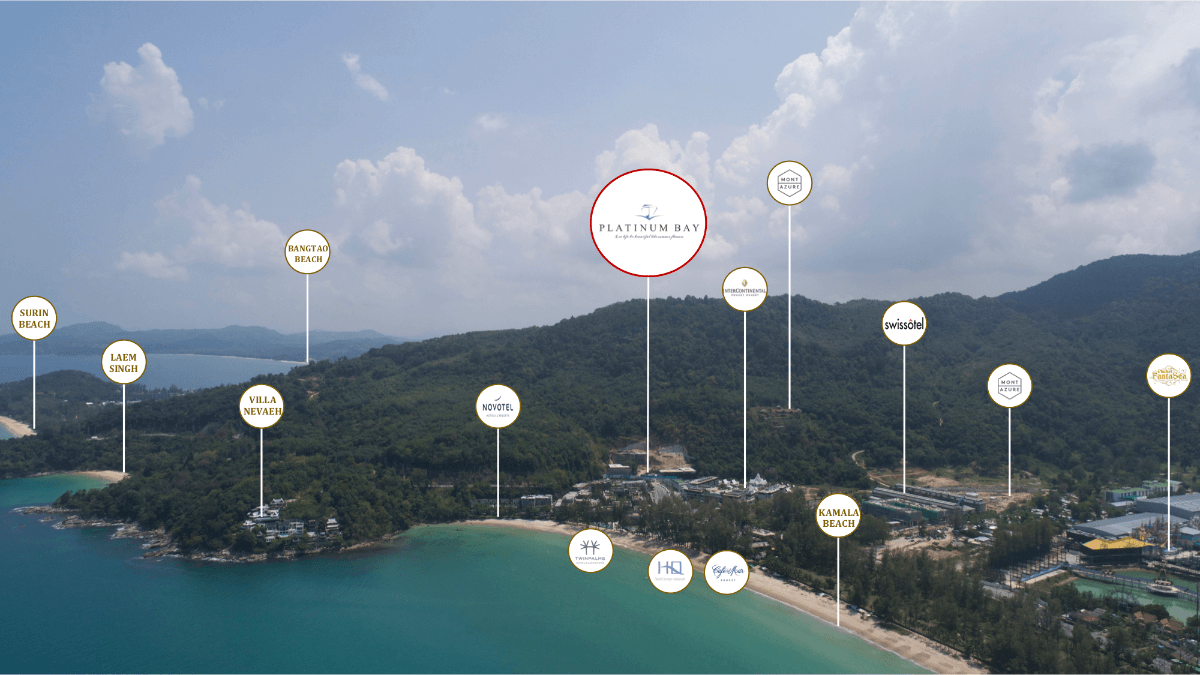 | | |
| --- | --- |
| Destination | Travel Time |
| Kamala Beach | 0 mins |
| Cafe Del Mar | 2 mins |
| Phuket Fantasea | 4 mins |
| Police Station | 4 mins |
| Restaurant Area | 4 mins |
| Kamala Walking Street | 5 mins |
| Big C Grocery Supermarket | 5 mins |
| Kamala International Clinic | 5 mins |
| Medical Care & Wellness Center | 5 mins |
| Kamala Night Market | 5 mins |
F.A.Q
Frequently Asked Questions
Who is the developer?

New World ADM Platinum (Thailand) Co., LTD. is a young leading property developer in Thailand headquartered in Phuket, Thailand. Established in 2016 with a mission of building a better living for all buyers and investors, ADM Platinum is focused on premier-quality real estate investments and development projects.

Prior to development, the developer has more than 10 years of real estate experience engaged in environmental consulting projects that successfully completed over 50 projects and 3,400 units. Consulting areas include managing EIA approvals, construction permits, license processing, property valuations, property management and other areas that relate to real estate in Thailand.

Can foreigners own property in Thailand?

Yes, Foreigners can own property in Thailand, In Thailand, foreigners may only own a condominium in his/her own name. But, you cannot own the freehold land in your personal name. However, the building structure can always be legally owned and registered in a foreigner's name. Foreigners can take ownership of a condo by either purchasing a condo unit with a freehold title or entering into a long lease agreement, commonly known as "Leasehold". Foreigners may acquire freehold ownership of a condo unit within the set foreign ownership quota of a condominium

By law, foreigners can own up to 49% of the total saleable area of a condominium project. The remaining 51% can be acquired under leasehold ownership. Leasehold gives the right of use and possession of the unit for a set period of time and is fully transferable. The maximum lease period is 30 years with additional 30 years renewal. In most cases, developers of condominiums will offer a total of 90 years ownership (30yrs + 30yrs + 30yrs).

There are very few requirements for buying a condo in Thailand as a foreigner. However, a foreigner must remit foreign currency into Thailand in order to purchase a condo.

What is the difference between Freehold and Leasehold?

Owning a property via Freehold terms means you will have exclusive rights of possession. You will retain the rights and claims of the property in perpetuity. According to Thai property laws and code, foreign ownership pertains to a property that is owned in Thailand by a foreigner from a foreign nation. When buying property via Leasehold, the maximum lease period is 90 years renew every 30 years.

FREEHOLD
While the ownership of property in Thailand is known to be restrictive, the latest law issued to regulate the condominium construction and sales in Thailand (2008 Condominium Act) offers the possibility for foreign owners to purchase the apartments in their own name, as long as the total area of the foreign-owned units does not exceed the proportion of 49% of the area of all the units and the remaining 51% must be owned by Thai nationals or If the foreign quota of 49% is full in a specific condominium development, the only other option would be to own the condo unit via leasehold or via a Thai company

LEASEHOLD
Since the Thai property laws allow foreign individuals to lease property in their own name, it becomes an interesting option for securing long-term occupation rights on a condominium unit. By officially registering a lease over the condominium unit. the maximum lease term that can be officially registered is 30 years at a time. The duration of the lease term cannot exceed 30 years but the Code does provide that the term may be renewed and in practice it is commonly accepted by the Land Office that the original term may be renewed twice making a total of 90 years. You will have your name inscribed at the back of the condominium unit title deed, and during the registered lease period your rights become part of the unit, so it can't be sold, mortgaged or any submitted to any other legal action without your consent.

Do units come fully furnished?

All furniture and furnishings are included in the purchasing price. Platinum Bay project offers fully furnished and decorated with high-end finishes, with home appliances – all included in the price

Can I buy for private residence?

In case of buying for retirement, vacation home, or long-term living, please contact us directly.

How can I send money to Thailand?

One of the conditions of buying an apartment under foreign ownership is that all funds must originate from outside Thailand. Most buyers send payment from their bank accounts in their home country by making an international wire transfer directly into the account of the developer. It does not matter which currency funds are sent in as they will be converted to Thai Baht upon arrival in the country. It is also possible for foreigners to open bank accounts in Thailand. If you would prefer to deposit funds into a Thai bank account first, you will need the bank to arrange a document providing that the funds originated from outside the country and that they are being used for the purchase of real estate.

Is it possible to receive rental income to overseas bank account?

The hotel management can transfer to oversea account, but the owners is responsible for associated international transfer fees. When the owners come to purchase the unit, we will ask them to open bank account in Thailand in order to conveniently transfer rental income and avoid potential international transfer fees.
Which hotel brand will operate my condominium?

Wyndham Garden will be operating and maintaining your investment. We are proud to bring Wyndham Garden, a brand with a strong and growing presence in the world and also one of the world's top hotel operators.

Can I extend personal usage more than 30 days?

Hotel management offers special discount from the current rental market rate to the owners if they wish to extend their stay.

If I want to reserve a room type other than what I own, will I receive a discount?

The owners can reserve to stay other room type and the hotel management offers special discount to the owners

In case of furniture damage during rental operation, who will be responsible for repairs?

The hotel management agrees to keep the premises and furniture in good condition and restore damage made during operation period, but will not be responsible for reasonable wear and tear

What is the special service provided after purchasing Platinum Bay project?

The owners who purchase Platinum Bay project will automatically become members of the "Platinum Bay Club" after handed over. The owner can enjoy exclusive member perks which include airport pickup services, exclusive lounge check-in, member discounts, exclusive activities, tour package booking services, customer services, and etc. A variety of services and can be arranged for short-term or long-term care, and you can feel Phuket is your second home
Location:
93/81 Kamala, Kathu Phuket 83150
Email:
info@admplatinum.com